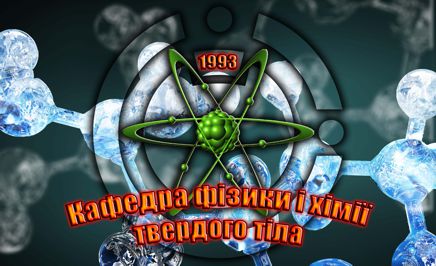 Department of Physics and Chemistry of Solids launched April 29, 1993.
The department successfully operating:
Mechanics. Molecular Physics
Molecular physics and thermodynamics
Atomic and nuclear physics
Solid state physics and semiconductor devices
X-ray spectral and structural analysis
Technology of thin films and electron microscopy
Thermoelectric phenomena in semiconductors
Technology semiconductor thin films
Synthesis of thermoelectric materials
Metallography
Staff
There are  Doctors of Science in Department:
Doctor of Physical and Mathematical Sciences, Professor Jaroslav Saliy,
and 6 candidates of Physical and Mathematical Sciences (PhD in Ukraine):
Professor Volodymyr Prokopiv
Professor Lyubomyr Nykyruy
Professor, PhD Ihor Horichok
Assistant Professor Orest Voznyak
Assistant professor Mykhaylo Lopjanko
Graduates receive qualified Physics and Applied Physics on three levels:
Postgraduate study
01.04.07 – solid state physics,
01.04.18 – physics and chemistry of the surface,
02.00.21 – chemistry of solids;
– post-docs studies.